ONLINE REGISTRATION
Players are required to register on two sites this year, the standard on-line APGC Registration System as well as the on-line MiTournament Registration System (which is in trial)
The Registration Fee for each Player is $650.00
The Registration Fee for each Partner (attending all events) is $380.00
The individual cost are:
Opening $60.00
Closing $100.00
Partners Tour 1 $110.00
Partners Tour 2 $110.00
PLEASE FOLLOW THE INSTRUCTIONS IN RELATION TO PLAYING PARTNERS YOU TRAVEL WITH AND WANT THE SAME TEE TIMES AS.   YOU WILL NOT BE PERMITTED TO CHANGE IT ONCE THE TIMESHEETS ARE DRAFTED.
Therefore, if John Smith and Bill Blogs want the same tee times, John should nominate himself as the travel partner and then Bill Blogs also nominates John Smith.  If there are additional travel partners wanting the same tee times as John and Bill, then any additional players MUST also nominate John Smith as their travel partner.  NO EXCEPTIONS.
If you nominate a travel partner and a 4BBB partner, and that partner is travelling with their own travel group who are on different tee times, one of you will miss out on travelling with your group on the 4BBB fixture.
Players will not be able to request ALL PM's or AM's unless exceptional circumstances exist.  In most cases, each player will be required to register for 2 AM rounds and 2 PM rounds.
All players will be in Motorised Carts
OTHER INFORMATION:
All applicants must register online on both systems after obtaining approval from their State Secretary.
Your APGC electronic registration is only to be forwarded to your State Secretary if required.
No hard copy Registration Forms or individual payments are to be sent to the Host State.
State bulk Payments MUST be received by the QPGC Treasurer by 15th December 2022
State Payments To:
QLD Police Golf Club 
BSB 484-799
Acc No 100224021
(Payments via state secretary only NO DIRECT PAYMENTS by Players).
IMPORTANT NOTE:
APGC On-Line Registration System
If you have any issues with the current APGC registration system, please email Steve Verkerk.
MiTournament On-Line Registration System
If you have any issues with the new MiTournamanet Registration System, please contact MiClub Support at support@miclub.com or phone 08 9444 5300.
STEP 1 –  TO REGISTER ON THE APGC ON-LINE REGISTRATION SYSTEM
Existing Users:
Click here
Enter one of your currently registered Email Address(es) or your National Golf Management System ID Number as your Username followed by your password.
If you have forgotten your password and your email address is the same as last year,click here for password recovery. Remember to check your Junk Mail if you cannot find the email.
If you have changed your email address and can't log in, you MUST contact Steve Verkerk with your new current details. Click here toemail Steve Verkerk.
New User:
(DO NOT register as a New User if you competed between 2010 & 2022 even if someone else registered for you)
First time Registrant/User of online registration:
Click here
Enter your email address and click on "Validate Email Address". You will receive an email with your Login Link and Permalink (Bookmark/Favourite).
STEP 2 – TO REGISTER ON THE MITOURNAMENT ON-LINE REGISTRATION SYSTEM
If you have previously registered for an event using MiTournamant, Log in Using your Username and Password.
If a new user to MiTournament, which most of you will be, please register by following the prompts by Signing Up as a New User.  Click on the "Sign Up" button, create your account, then go back to this webpage and click on the below "Click Here" link.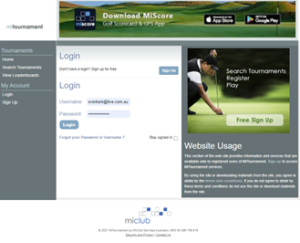 Once Logged in, the following registration page will appear.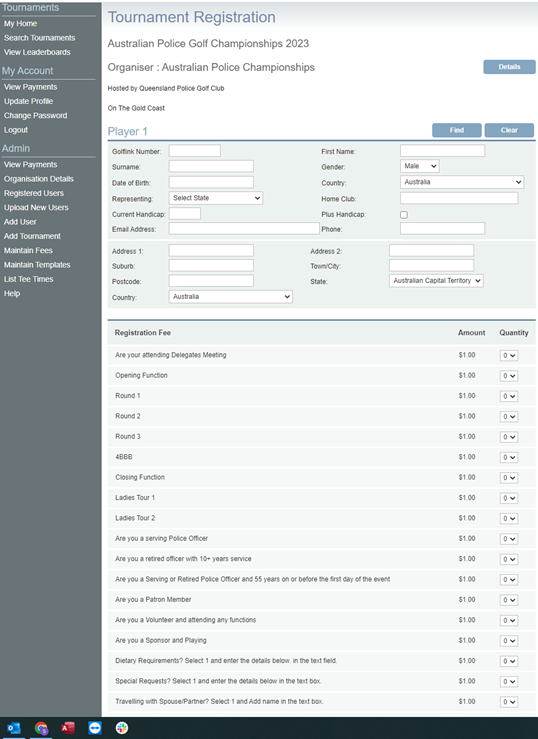 Complete the Player Details in its entirety along with the Registration Fee by selecting the appropriate number from the Dropdown box.
Once Registartion is complete, you will receive a confirmation email.  IF EMAIL NOT RECEIVED, contact MiClub Support.
THIS EVENT IS A HIDDEN EVENT AND CAN ONLY BE ACCESSED IN MYTOURNAMENT VIA THIS LINK ABOVE.  It is hidden to stop any user of the site from regiatering at our event.