The SAPGC are very pleased to announce that we have finally been able to finalise the Partners Tour package for March 2022. It has taken some time due to COVID-19 restrictions but we truely believe the tour will have a mix of something for everyone.
There are still limited spots available if partners have not registered or if partners wish to pull out can you please advise the SAPGC Committee ASAP.
The tour will be held on Monday 7 March 2022. Full details are below.
I am also delighted to advise that on the "rest day" Wednesday 9 March we will be hosting a day at the Woodstock Winery. This will be a relaxed day with an opportunity to sample some wines & graze over a long lunch.
There will also be an opportunity to purchase some fantastic SA wines at great prices. All players & partners are welcome and further information will be released in the new year on this event.
Monday 7th March
We will meet at the beautiful beach side town of Victor Harbor at 8:00am for departure at 8:30. From here we will travel to Handorf in the Adelaide Hills arriving at about 9:30.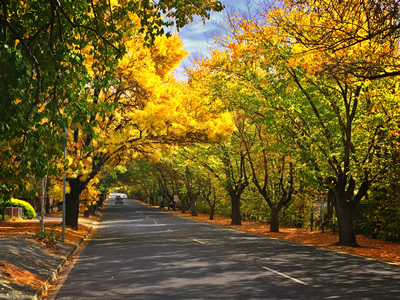 We will have the morning in Hahndorf's tree-lined main street, where you will experience the charm of this quaint, historic hills village. Hahndorf is Australia's oldest surviving German settlement and proud of its heritage which is still visible in the traditional streetscapes and German pubs and cafés. You can spend the next 2 hours checking out all the specialty arts and craft shops cafes and German bakeries. Perhaps visit the, quite tasty Chocolate @ No. 5, the Menz FruchChocs Shop or the old fashioned lolly shop if you have a sweet tooth.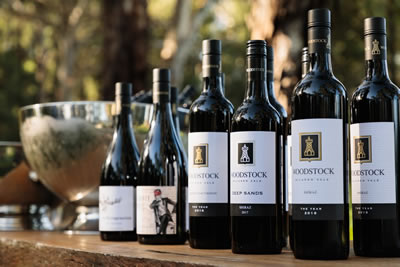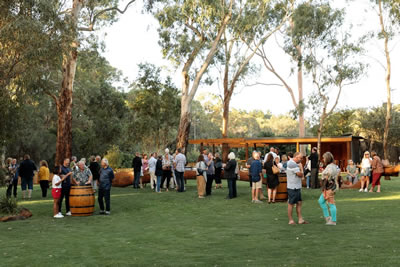 At 11:30 we will head off to a beautiful Woodstock winery in McLaren Vale. On arrival we will enjoy a shared lunch of mixed Grazing Platters and Flammekueche's with of course beautiful wines at your selection. In the time left why not do some wine tastings or visit the wildlife sanctuary on site.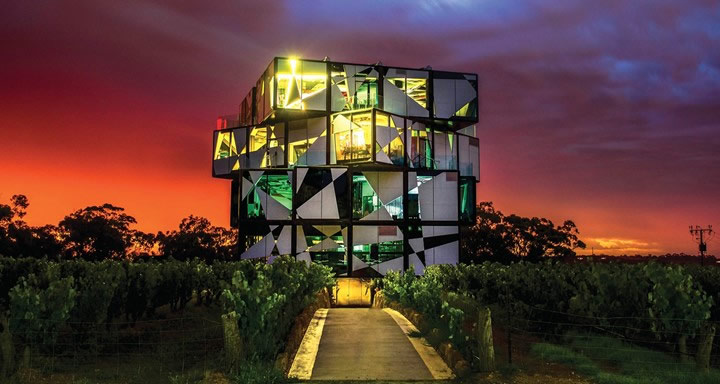 About 2:00pm we will then head off just a quick 9 minutes up the road to the most famous d'Arenberg Cube. The idea to build the d'Arenberg Cube came to Chester Osborn in 2003. Inspired by the complexities and puzzles of winemaking, Chester created the idea of a cube-shaped building. Each of the five levels have been carefully designed to entice and excite the senses, including features such as a wine sensory room, a virtual fermenter, a 360degree video room, and many other tactile experiences.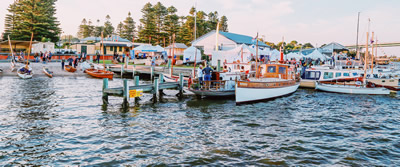 We will then all board the bus and start our way home but not before we cleanse our pallet in Goolwa a beautiful town settled on the mouth of the Murray River.
On arrival at 4:00pm, we will head down to the Wharf. There you can choose to have your cleanser at the Fleurieu Distillery from their range of Gins or if its wine you still desire next door we have 90 Miles Wines all in the Wharf Barrel shed.
From here it is up to you. We are now only 20 minutes from Victor Harbor. The bus will leave at 5:00pm to take those that wish to back where the fun all began, or you may decide to get your partners to meet you here after their golf to continue on or head off to your accommodation.
The tour will be hosted by SA's very own Mr Cheeky (Aka Committee Member Darren Cheek) and will come at a cost of $100 which includes; Lunch, Wine Tasting & Salvador Dali Tour @ The Cube and the bus trip. Shopping in Hahndorf will of course be at your own expense J